I qualified from UCD Medical School in 1993 with an honours degree. My Masters in Surgery degree was given for research performed in U.C.D. Centre for Bioengineering under supervision of Professor David Fitzpatrick in the area of Spinal Biomechanics and evaluating implant design in a comparative biomechanical model combined with an anatomical study performed in the anatomy department of U.C.D. Medical school.


I completed the Trauma and Orthopaedic Surgery National Higher Surgical Training program rotating through major orthopaedic departments throughout Ireland including St. Vincent's Hospital, Merlin Park Hospital Galway, Mater Misercordiae Hospital , Beaumont Hospital and Our Lady's Hospital for Sick Children . During this period, I also undertook a fellowship in reconstructive surgery at the Russian Ilizarov Scientific Center for Restorative Traumatology and Orthopaedics, Kurgan, Russia. While training, I was awarded the KesseI research prize from the British Shoulder & elbow society , the Haughton Medal from Royal Irish Academy of medicine and the Cappagh Hospital research prize. I completed the fellowship exams in Trauma and Orthopaedic Surgery (F.R.C.S Orth) in 2003 which signified the end of my general orthopaedic surgery training.


I then travelled to Mount Sinai Hospital, New York, New York University Medical Center, Bellvue Hospital and Hospital for Special Surgery, New York where I had the opportunity to work with some of the leading shoulder & elbow surgeons. I was involved in the care of elite athletes including the New York Yankees , New York Jets, New York Mets as well as other New Yorkers with problem shoulders. There was also plenty of opportunity to get involved with several research projects which progressed to international presentations and publications.


From New York, my training then took me to the Reading Shoulder Unit based at the Royal Berkshire Hospital in the UK for a further year of sub-speciality training. The fellowship directors were Mr. Stephen Copeland and Prof. Ofer Levy, who have both been pioneers of shoulder surgery. Mr Copeland designed the resurfacing shoulder replacement which became the leading implant used in Europe. I also undertook a visiting fellowship at the Cape Shoulder Institute, Cape Town, South Africa with Prof. Joe de Beer where I became particularly interested in the treatment of collision athletes. At Stellenbosch University I spent time assessing rugby players with instability injuries- they have the highest numbers of players in the world with up to 400 playing each day.


I was appointed as a consultant at Beaumont Hospital and National Orthopaedic Hospital, Cappagh in 2005. My love for travel and learning has continued though, by ongoing visitations to leading surgeons in the United States and Europe. I also regularly teach at national and international shoulder courses and ran an international sports shoulder course in Dublin for many years. Once back in Ireland I also commenced private practice at Blackrock Clinic and was involved in the development of the Santry Sports Clinic. This allowed me to help develop my shoulder & elbow surgery unit and set up key research departments from the time it opened in 2007. My research team routinely collaborates with R.C.S.I, U.C.D and Trinity College. Given my interest in teaching and research , I am delighted to have been appointed honorary senior lecturer at the Royal College of surgeons and am actively involved in teaching medical students. This coincides with being a trainer for Orthopaedic trainees on the national higher surgical training scheme.


I have helped set up the Irish Shoulder & Elbow Society with my colleagues which has been a major step in progressing shoulder & elbow surgery and we have run a very successful national meeting since 2015 .I am involved in a number of shoulder societies and national delegate for the European Shoulder & Elbow Society. I am a reviewer for a number of shoulder journals and very active in encouraging research from my trainees .I am also involved in humanitarian efforts including several missions to Haiti post earthquake and other health related projects with my Beaumont colleagues in India and other areas.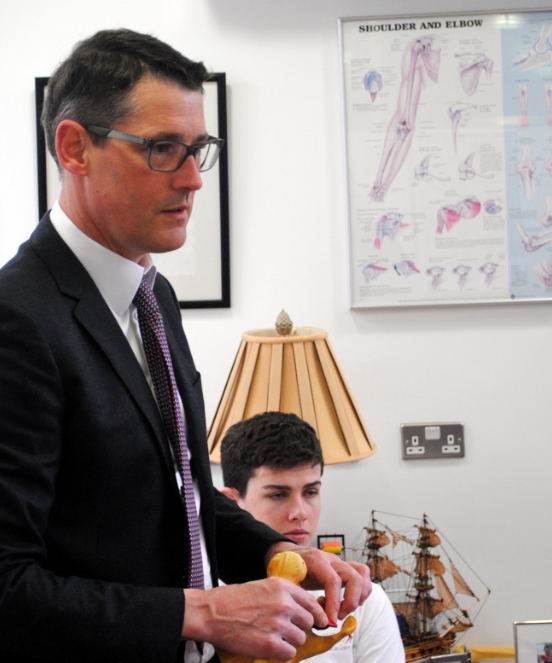 I specialise in all types of shoulder surgery including arthroscopic reconstructive (keyhole) surgery. I have a particular interest in managing sports injuries such as shoulder instability (dislocations) and rotator cuff injuries. I routinely treat professional athletes and am active in research in optimising return to play. I perform a large volume of rotator cuff repair and shoulder replacement operations. I regularly lecture nationally and internationally and instruct on surgical training courses. I'm involved in the European and American Shoulder & Elbow society . I run a shoulder fellowship training program and have trained fellows who now work all around the world.
Qualifications & Degrees
MB, BCh, BAO, MCh, MFSEM, FRCSI (Tr & Orth)
•   M.B. BCh. B.A.O (Honours) –
•   U.C.D. 1993
•   Irish Higher Surgical Training Scheme in Trauma & Orthopaedic Surgery
•   RCSI 1997-2003
•   MCh Degree
•   UCD – Biomechanical research 1991
•   Fellowship in Upper Limb Surgery
•   2003-2004 New York
•   Mount Sinai Hospital New York,
•   New York University Medical Centre
•   Hospital for Special Surgery, New York
•   Fellowship in Shoulder Surgery
•   2004-2005 Reading Shoulder Unit, Royal Berkshire Hospital
•   Visiting Fellow Cape Shoulder Insititute,Cape Town 2005
Memberships and Affiliations
Founder and President of the Irish Shoulder & Elbow Society
Co-chairperson European Shoulder & Elbow organizing committee
National delegate European Shoulder & Elbow Society
Member of European Shoulder & Elbow Society
Member of British Shoulder & Elbow Society
Member of the American Shoulder & Elbow Society
Member of the Watanabe Shoulder Society